Confessions, 1929 E.V.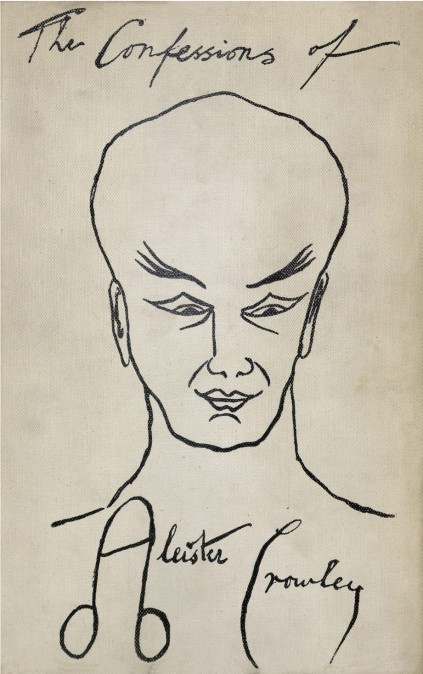 • Front cover of The Confessions of Aleister Crowley (1929 E.V.)


• Read about The Confessions of Aleister Crowley whose first volume was published by The Mandrake Press in November 1929 E.V., and the second volume the month after.
Why did Crowley suddenly stop calling the book "The Hag" and for the first time mentioned it in his Diary as "The Spirit of Solitude"? – Read online or download this PDF file (43 pp.) containing an extract from FOR THE THELEMITES. [May need further proof reading]
(In connection with this extract, see also the extract "Dec. 5, 1947 E.V."!)
Read online or download (Acrobat 7.0 and later):
⁂
"ALEISTER ST. EDWARD CROWLEY"
Most people will probably think that the designation "Saint" used by Aleister Crowley dates from his joining of the Ordo Templi Orientis, however, that is not the case!
In the prospectus of "The Confessions of Aleister Crowley" – "The Spirit of Solitude" – issued in the Autumn 1929 E.V., the work's publisher, and Crowley's friend, P. R. Stephensen of the Mandrake Press in London, had contributed a short essay titled "Is Aleister Crowley a Saint?", and whose last lines stated:
Is Aleister Crowley a saint? Readers of his Confessions will be able to judge for themselves. And whatever their conclusions, they will not deny the tremendous energy and versatility of the man, or that he is a subtle and unique personality who has lived colourfully in our drab age.
Eleven years before, in New York City in 1918 E.V., Crowley had added "St." between "Aleister" and "Edward" when he gave his full name to an assistant to the Attorney General who examined him: "Aleister St. Edward Crowley".
However, the earliest use of "Aleister St. Edward Crowley" that I have seen dates as far back as 1900 where an entry of "Crowley, St. Edward Aleister" in The Literary Year-book And Bookman's Directory 1900 listed the three books, Jephthat, and Other Mysteries [1899]; The Tale of Archais [1898]; and Jezebel, and other Tragic Poems [1898]! – The ultra-rare Jezebel (a total of 52 copies printed) was distributed by Kegan Paul, and priced 15s. net.
In July 1904 E.V. we find the name "Aleister St. Edward MacGregor Crowley" on Nuith Ma Ahathoor Hecate Sappho Jezebel Lilith Crowley's Birth Certificate, and added to the former name was "Boleskine Khan commonly known as Lord Boleskine, Author". Rose and Aleister Crowley's daughter was born on July 28th at Boleskine House after the couple's return from Egypt.
Six years later, in 1906 E.V., "St." also appeared on the birth certificate of Lola Zaza Crowley (born on December 2, 1906 E.V.), where the father's name stated: "St Edward Aleister Crowley", information supplied by the mother, Rose Edith Crowley!
Returning to America and WW1, in 1917 E.V. and 1918 E.V. approximately 24 million men living in the United States of America completed a World War 1 draft registration card, thus also Aleister Crowley who on September 12, 1918 E.V., signed his registration card: "Aleister Saint Edward Crowley" (the 'A' of "Aleister" phallus-shaped!), and gave his present occupation as a "Poet"!
(The above are extracts from For the Thelemites, but here printed without notes indicating sources etc.)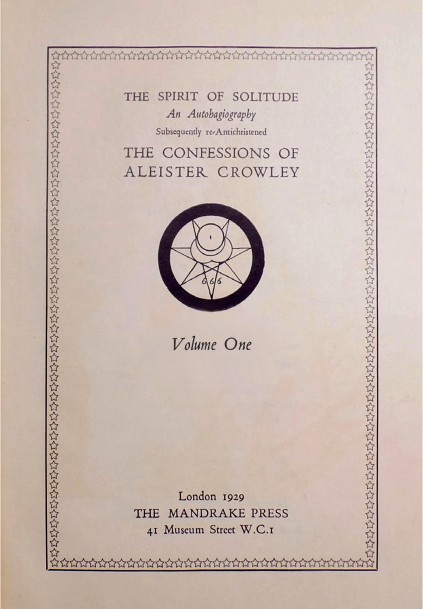 • Title page of the first volume of The Confessions of Aleister Crowley (1929 E.V.)
⁂
'A FORGOTTEN CASE'
In the summer of 1930 E.V. Aleister Crowley had tried to exhibit his paintings in London, but it came to nothing. However, it turns out that Crowley for the exhibition had hired a photographer to copy a pencil portrait of him drawn by Augustus John – apparently the portrait that appeared as frontispiece in the seventh number of The Equinox, March 1912 E.V. (below). But the photographer did not deliver, and Crowley sued him, as narrated by the London Daily Herald on August 1, 1930 E.V., in a notice headed "AUTHOR'S PORTRAIT" – "JOHN DRAWING THAT WAS KEPT TOO LONG":
A pencil portrait by Mr. Augustus John, R.A., valued at £100, was the subject of an action at Westminster County Court yesterday.
Mr. Alistair [sic] Crowley, of Park-mansions, Knightsbridge, S.W., sued Mr. J. W. Maycock, a photographer, of Maiden-lane, for the value of the portrait or its return, and damages for its detention.
Mr. C. Gallop, for Mr. Crowley, said the plaintiff was an author, and a portrait of himself in pencil was to be used in connection with an exhibition.
The picture had been returned, and it was a question of costs and whether there was wrongful detention.
Mr. J. R. O. Jones, for the defence, said there was no question of illegal detention. The portrait, with other pictures, had been removed to Mr. Maycock's studio at Mr. Crowley's request to be copied.
Judge Sir Alfred Tobin found that there was undue delay in returning the portrait and entered judgment for Mr. Crowley for costs.
Perhaps the portrait together with some of Crowley's works were illustrations for an exhibition catalogue.
The same day that the notice appeared in the Daily Herald Crowley departed for Berlin together with some 160 of his paintings and drawings. These works were exhibited in October 1931 E.V. at the Gallery Neumann-Nierendorf in Berlin – the exhibition opened on October 11, 1931 E.V.
⁂
The mentioned 1930 E.V. exhibition of Crowley's paintings was apparently the short-lived exhibition at the Aquila Press in London. In 1930 E.V. Crowley had tried to buy the newly founded Aquila Press in London which was for sale. Aquila Press, located at Lenthall Place, Gloucester Road in Kensington, had been founded in January 1929 E.V. by the English publisher, printer and art journalist, and later art gallery director Winifred (Ellen) Henderson, née Lester (1896-1976), known as Wyn Henderson. Wyn Henderson would later write in a memory of Nancy (Clara) Cunard (1896-1965), English poet, publisher and political activist, about Aleister Crowley and his attempt to buy the press:
I can see her [Nancy Cunard] now with her delicate shapely head, rolling her pretty blue eyes with the mischievous expression of a naughty child she so often assumed, in this instance at the sight of the atrocious and horrifying paintings by Aleister Crowley with which he had temporarily plastered the walls of the press he had in vain hoped to buying. Her keen visual sense was very properly outraged but not at the expense of her lively sense of humour.
A couple of years before World War 2 started Wyn Henderson ran gallery Guggenheim Jeune, 30 Cork Street, London W. 1, for the American art collector and bohemian Marguerite "Peggy" Guggenheim (1898-1979).
(Extracts from For the Thelemites, but here printed without notes indicating sources etc. See the PDF.)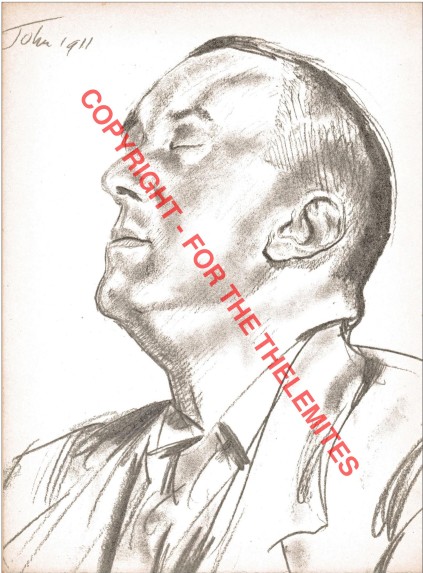 • 'Aleister Crowley. A Lithograph by Auguste Clot from the Sketch made by Augustus John.' Frontispiece of the seventh number of The Equinox, March 1912 E.V. The lithograph was also used on the front page of the prospectus of The Confessions of Aleister Crowley, which was issued in the Autumn of 1929 E.V. Augustus John's original pencil drawing "Alistair [sic, Aleister] Crowley in a Trance, 1911," which measures 16 × 10 3/8 inches (40.64 × 26.35 cm), is today in the Albright-Knox Art Gallery, Buffalo, New York, a drawing received in 1953 E.V. as a gift of Anson Conger Goodyear (1877-1969), a Bufallo local business man, military officer, author and collector of modern paintings, rare books and historical manuscripts. A. Conger Goodyear was a director, 1911 E.V., of the Albright Art Gallery in Bufallo, and a founder and president, 1929-39 E.V., of the Museum of Modern Art in New York City. The drawing was originally in the collection of the Irish-American New York lawyer, collector, and patron John Quinn (1870-1924). Augustus John apparently made two drawings of Aleister Crowley in 1911 E.V. The other one, which originally was exhibited in London in December 1911 E.V., is now at the Harvard Art Museum/Fogg Museum in Cambridge, Massachusetts. For the latter, see the page "Amphora". The drawing that appeared in the seventh number of The Equinox was clearly Crowley's favourite Augustus John portrait of him – there are four known portraits of Aleister Crowley drawn by Augustus John, the three of them are apparently from the 1910s, and the last one dates from shortly before Crowley's death and appeared in OLLA in 1946 E.V.