Carthage 1923 E.V.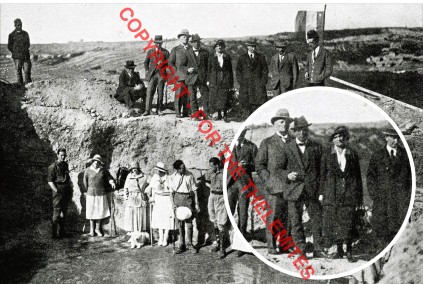 The three photographs below:
(Top) Zephyr Hotel, Marsa-Plage, Tunisia.
(Middle) Zephyr Hotel, Marsa-Plage, Tunisia. Entrée principale.
(Bottom) Zephyr Hotel, Marsa-Plage, Tunisia. Le Hall.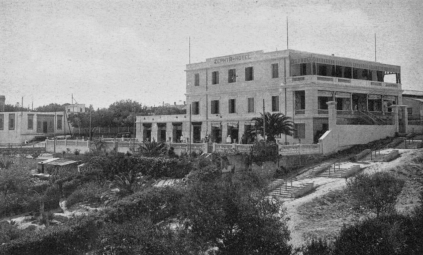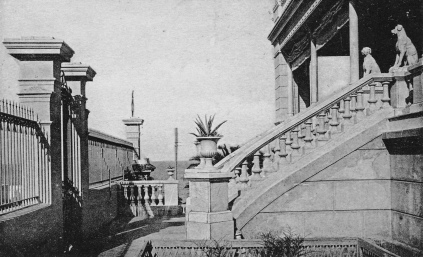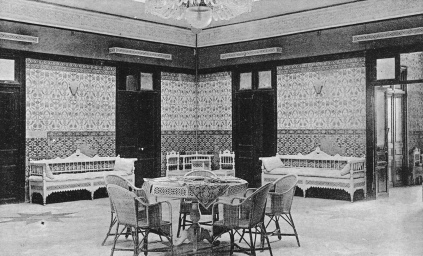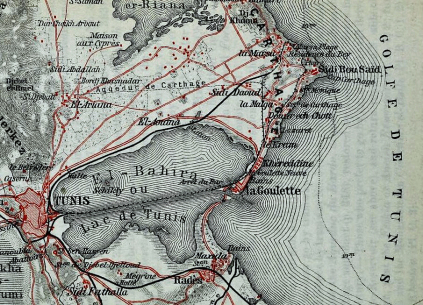 • Photograph (above) from Excavation in Carthage, Tunisia, which in all probability shows Aleister Crowley, Leah Hirsig, and Dr. Theodor Domela, on their visit to Carthage on August 28, 1923 E.V.
Aleister Crowley is in all probability person number four from the left on the upper level, Dr. Theodor Domela, Aleister Crowley's physician in Tunis, is probably standing next to him (number five from the left), and Leah Hirsig (Alostrael) next to Dr. Domela (number six from the left).
Aleister Crowley and Leah Hirsig were after Crowley's expulsion in May 1923 E.V. from Italy and the Abbey of Thelema in Cefalù by Mussolini staying some two months in a cheap hotel at Marsa Plage, Au Souffle du Zéphir (Zephyr Hotel), near Sidi Bou Saïd at the Mediterranean coast some 22 kilometres northeast of Tunis.
After a few days stay at the beach hotel Crowley wrote in his diary on May 16, 1923 E.V.:
Another bad night: this time because a mouse ran across Leah's face at 1:15 a.m. She started screaming and became violently hysterical. I copied her as faithfully as I could.
The couple suffered from stress combined with lack of money after the expulsion from Italy. Both Crowley and Leah needed medical care and they got help from a Dutch-born English educated physician in Tunis, Dr. Theodor Domela Nieuwenhuis (1872-1941), a son of the prominent Dutch socialist Ferdinand Jacobus Domela Nieuwenhuis (1846-1919).
In 1923 E.V. excavations were going on in the ancient city of Carthage situated not far from La Marsa. On Wednesday, August 29, 1923 E.V., we find Crowley writing in his diary:
On Tuesday [August 28] we drove to Carthage with Dr. Domela, & saw Grotto aux mille Amphores – one of the finest ruins I ever saw!
– the grotto that Crowley mentions must be 'Fountaine aux mille Amphores' (Fountain of the thousand Amphorae), which was discovered at Carthage in 1919-20 E.V. by Louis Carton (1861-1924), a French military physician and amateur archaeologist. At the time of the visit to Carthage Crowley had left Au Souffle du Zéphir and was staying at the Tunisia Palace Hotel in Tunis.